Rishikesh: The International Yoga Festival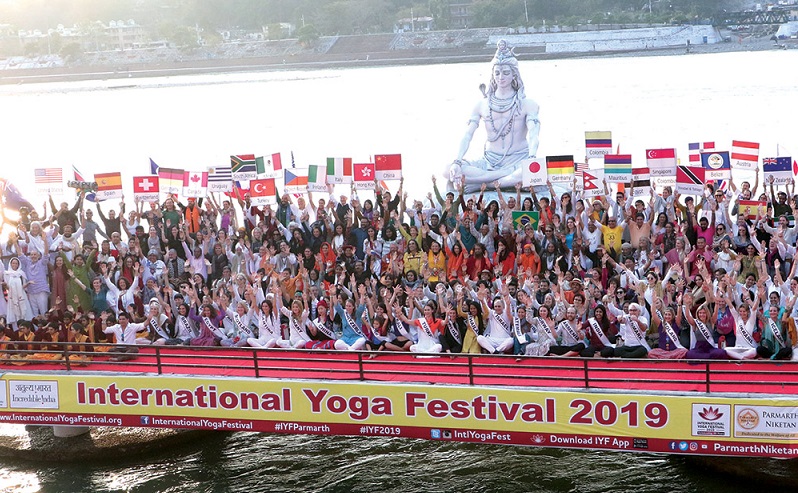 Yoga roots its inception within the terrains of India. Now, with global recognition, India remains at the forefront of this traction – this translates to the fact that Rishikesh remains the yoga capital of India and the world. This city is studded with established yoga ashrams and has been the respite for many devotees, seers and yogis across the world. People visiting here come from places as far as Australia to neighboring places like Nepal. But the most interesting aspect of Rishikesh is its Yoga Festival.
International Yoga Festival
The festival is a celebration of this art form and it's held annually between the first week of March. This place has been a seat of diversity with yogis coming from different socio and geopolitical strata. It is also to invoke a global consciousness of this artform and to invigorate the belief i.e. to heal this planet, one person, at a time.
Where does it take place?
This international festival takes place in one of the largest ashrams in Rishikesh i.e. Parmarth Niketan Ashram. It also happens to be one of the biggest interfaith yoga ashrams in the country. Booking a cab from Dehradun Airport to Rishikesh will help you reach the festival in no time.
What's in their itinerary?
The festival helps people find a stable trajectory to learn the art form of yoga. The enthusiasts can easily attend a cumulative 60 hours of classes conducted by the connoisseurs of yoga – from Kundalini Yoga to Kriya or Iyengar Yoga, there are multiple styles to practise.
Presenters and esteemed individuals like Pujya Swami Ramdeviji, Rujuta Diwekar, Vandana Shiva and Dalai Lama. There will be seminars and talks on the importance yoga harbors especially in the context of spiritual, mental and physical health.
What's the tentative cost?
If you are not including the part where you book a cab from Dehradun to Rishikesh with a reliable driver, the festival pass will set you back for 16,000 INR for one person. The cost might seem steep but given the accommodation, meals, classes and performances – it translates to a very lucrative deal. But the rooms are to be shared. The rooms here are well equipped with all the fundamental amenities that you need like mattresses, linen et al. The accommodation can be optional if you are a citizen of India. Apart from the main event, there are pre and post-festival events which you can sign up for. You can easily find the details on their official website.
But pre-registration is imperative if you are planning to stay the week. But if you are planning to visit for a day, a one-day prior booking will easily find you a spot.
International Yoga Festival: 2020
As mentioned already the festival took place in the first week of March. There is tentative participation of more than 2000 participants from across 100 countries around the world. This year, the festival held workshops and talks on the science of wellness and health. Given that the festival takes place on the Ganga shores, it automatically harbors a sense of spirituality and calmness. The session highlights of this year were Hatha Yoga, Yog Nidra and Pranayama. Meditation sessions of Antar Muana, Chakra Sudhi, Chidakasha, Agnihotra and Ajapa Japa also took place.
This festival can be a chance for you to get the detox you were looking for. Given that we are already living in a spiritually impaired time, you must find yourself a platform that will help you invigorate the spiritual juice inside your system.