Do's and Don'ts While Wearing Face Shields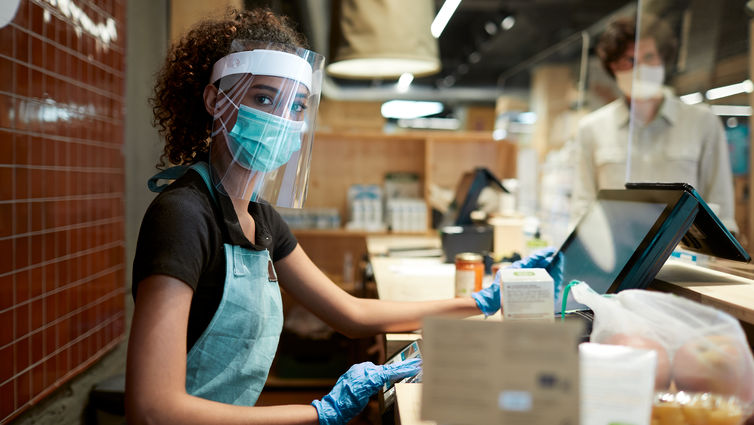 Face shields are now widely considered to be a part of a full gear to protect oneself against the coronavirus. Earlier frequently used in hospital settings where doctors and nurses work in close proximity to their patients, face shields are now used by the general public too.
Face shields act as a layer of protection between the face and any hazardous liquid molecules that it can potentially come in contact with. It protects the eyes, nose, and mouth from encountering such dangerous molecules and protects from the transmission of the virus. The transparent panels of the face shields are made of either plastic or plexiglass. The panel keeps you from accidentally touching your face.
Here are some dos and don'ts when it comes to wearing a face shield properly.
Dos
Do make sure that the panels of your face shield cover and encompass the area past your chin and curves around your face.
Do make sure it is placed properly.
Do replace your face shield when it is damaged or used for a long time.
Do sanitize face shields frequently.
Do clean and sterilize your non-disposable face shield after every use.
Do wear gloves while cleaning a face shield.
Do maintain social distancing even after wearing a face shield. It is better to be safe than sorry.
Don'ts 
Don't let there be any space between forehead and headband.
Don't consider face shields to be an alternative to masks. Instead, think of it as a supplementary addition to face masks.
Don't reuse face shields that are misshapen, broken, or damaged.
Don't use harsh chemicals on the face shield. They have the potential to damage it.
Don't buy low-quality models and compromise on your safety.
When worn correctly, face shields have more potential than face masks for fighting the COVID-19, especially since they protect areas that are usually not covered like the eyes. In case of a situation where someone else sneezes in close proximity, face-shields protect the mucous membrane of the wearer's eyes.  
Buying a good quality face shield is essential in the long run, which is why Lezar 3D visiere de protection offers premium face shields made in Quebec that are durable and FDA approved. These shields are also reusable and can be cleaned even at high temperatures, making them a faithful companion in your fight against the pandemic.