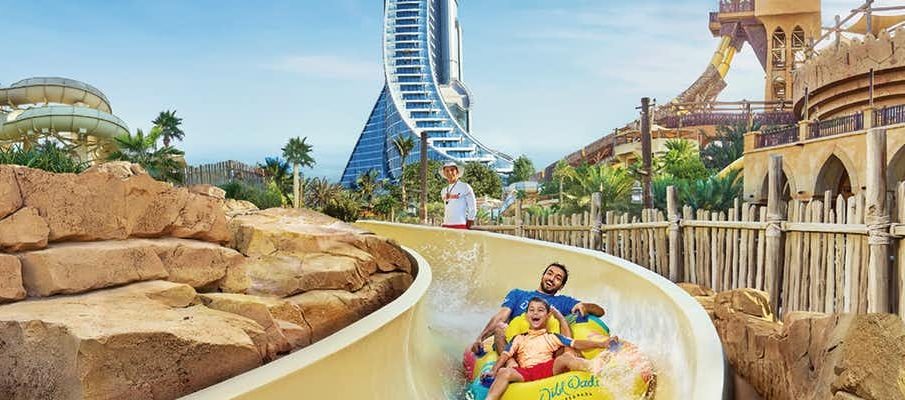 Occasionally, everyone feels like escaping the desert heat of the UAE which is best done at one of Dubai's famous water parks. However, there are many to choose from, but the question on everyone's mind is which one? According to surveys and customer reviews, we have shortlisted Aquaventure and Wild Wadi. Let's compare the two considering a few important factors you investigate when selecting a water park for fun!
Many tour operators are available for an unmatched experience for visitors to enjoy their time in Dubai. Similarly,with TripX Tours Discount Codes you can find the best tour and at very cheap rates.
Park Grounds
Aquaventure opened in 2008 along with the renowned hotel it shares grounds with – Atlantis The Palm. Built upon 42 acres of pool areas, palm tree shaded grass and a beach that stretches over 700m, Aquaventure Waterpark houses more than enough space to settle in spend the entire day.
Wild Wadi, opened in 1999 and is still the first water park in Dubai. This is spread over 12 acres and smaller than Aquaventure. Therefore, at times it seems congested. Unfortunately, there is no direct access to the beach from the park, however the park has its own man-made beach and the views of the iconic Burj Al Arab are excellent!
Food & Beverage
Aquaventure has numerous food outlets and kiosks with something to suit everyone's taste. Portions of food served are generous so sharing a is very easy. When you purchase your entrance ticket you can add a meal voucher which seems like good value.
Wild Wadi on the other hand has only 2 restaurants and several kiosks spread around the park. Food portions are generous here also. However, both parks do not allow you to bring in food from outside.
Cost
None of the parks are cheap to visit. Factor in travel costs, as well as locker and towel rental and food and you are spending a lot of money. You could save yourself some good amount of money by taking your own towels and lockers are not that necessary.
If you are touring the water part with TripX Tours Discount Codes, you might find discounted meals and rides also.
Overall Experience
Being on the Palm and just getting to Aquaventure Waterpark is anexceptional experience. One will love the well-kept grounds and beach that Aquaventure offers, and they are undoubtedly a little more relaxing than Wild Wadi. The rides are brilliant and queues are not long at all.
Atlantis The Palm Hotel Dubai
If its adrenaline rushyou seek, Wild Wadi just pushes ahead here with their rides. Being quite a bit smaller though meant you felt the crowds more here as you're packed into queues for rides.Service at both parks was excellent and staff were all very friendly.
Both Dubai water parks set you up for a vivid, if not an exhausting day out. Both Aquaventure and Wild Wadi are well-managed, and you would really enjoy both experiences. If you only time for one water park, then neither of the two can go wrong. You would certainly enjoy a day at Aquaventure slightly more than that at Wild Wadi but if you have limited time and are only focused on a lot of rough rides, then Wild Wadi might be best for you. Either way, 100% fun is guaranteed at these venues. For more exciting packages check out TripX Tours Discount Codes to avail discounts!